Day 1 :
Natural Products | New Sources and Approaches to Natural Products | Natural Products Chemistry & Natural Products Drug Discovery | Phytomedicine and Phytochemistry & Medicinal Natural Products |Marine Probiotics and Prebiotics & A Promising Future for Marine Drugs and Natural Products
Location: Holiday Inn London Brentford Lock Commerce
Session Introduction
Korea Institute of Oriental Medicine, Korea

Biography:
Hye-Jin Kim completed her B.S. in Biotechnology, Soonchun hyang University, South Korea and M.S. in Molecular Medicine and Biopharmaceutical Sciences, Seoul National University, South Korea. Currently she is working in Pres. Researcher, KIOM (Korea Institute of Oriental Medicine)
Abstract:
Statement of the Problem: Women who have experienced menopause are at greater risk for immune imbalance including hormone problem. Estrogens are involved in immune response at least of the humoral immunity and androgens and progesterone. However, hormone replacement therapy has limitations of breast cancer incidence. Herbal medicines, which have less adverse effects, have received attention to compensate for the problems related to hormone replacement therapy. The purpose of this study is to demonstrate the immunological efficacy of T. tetragonioides (TT) using ovariectomized animal models.
Methodology & Theoretical Orientation: TT has been used for improving women's health and treating inflammatory diseases. The sequencing analysis from the nuclear genome makes the internal transcribed spacer region a valuable resource for plant species identification. We sought to investigate the effects of TT the level of inflammation markers (IL-1β, IL-6, IL-12, IL-17 and IFN-γ) using ovariectomized mice.
Findings: As a result of ITS gene analysis, 20 individuals collected from different region showed 99% homology. IL-1β, IL-2, IL‐12, IL‐17, and IFN‐γ in CD4+T cells were significantly reduced in ovariectomized animal model. It also showed an increase in anti-inflammatory cytokines (IL-10). In addition, they displayed significant immuno modulating activities including inhibition of generation of TNF-α, IL‐1β and IL-12 of immune cell cytokine production in mesenteric lymph node, whereas increased the cytokine of IL-4 and IL10.
Conclusion & Significance: These results suggest to target the modulation of inflammatory immune responses for the treatment of menopausal symptoms and related diseases.

Biography:
Sunmin Park is a Full Professor of Nutrition at the Korean Academy of Science and Technology. She has expertise in the study of diabetes with an emphasis on the etiology of Asian Type 2 Diabetes. Type 2 diabetes involves various organs of the body, and much of her recent research has focused on the modulation of insulin signaling in the brain and liver. Recent studies have shown that the gut microbiome also plays an important role in various diseases, including diabetes. However, the mechanism of gut microbiota changes by diets and disease status remains elusive, so she is interested in studying the interactive effects of disease states, diet, and gut microbiota
Abstract:
Since gut microbiota influences obesity and bone mineral density, probiotics, prebiotics and synbiotics may attenuate menopausal symptoms by modulating gut microbiota in estrogen-deficient animals. We investigated whether the long-term consumption of L. fermentum (probiotics) and cauliflower mushroom (prebiotics) would prevent and/or delay the progression of post-menopausal symptoms in estrogen-deficient ovariectomized (OVX) rats with diet-induced obesity and explored their mechanisms of action. OVX rats were fed with high fat diets containing 1% dextrin (control), 1% lyophilized cauliflower mushroom plus 0.1% casein (CFM), 0.1% L. fermentum plus 1% dextrin (LFE), 1% CFM plus 0.1% LFE (CFLF), or 30 μg/kg body weight 17β-estradiol plus 1% dextrin (positive-control). CFM mainly contained β-glucans (about 95.8%). OVX exhibited impaired energy, glucose and lipid metabolisms and changed gut microbiome, and 17β-estradiol treatment prevented the impairment. Only CFLF lowered tail skin temperature without increasing serum 17β-estradiol and uterine index. CFLF and positive-control groups increased daily energy expenditure and fat oxidation. Dyslipidemia induced by OVX was improved by CFM and CFLF and CFLF prevented the dyslipidemia as much as in the positive-control group. Serum glucose levels and insulin levels were lower in CFLF as much as in the positive-control group. HOMA-IR was rather lower in CFLF than in the positive-control. Hepatic insulin signaling (pAktàGSK-3β) was also potentiated in the ascending order of the control, LFE, CFM, CFLF, and positive-control. AMPK phosphorylation showed similar patterns of hepatic insulin signaling but LFE increased it more than CFM. OVX increased the ratio of Firmicutes and Bacteroidetes and decreased the ratio of Actinobacteria plus Proteobacteria in the large intestines. The changes were prevented by CFLF as similar to the positive-control group. In conclusion, OVX changes gut microbiota and the changes were associated with menopausal symptoms and synbiotics of CFM and LFE prevented the gut microbiota and menopausal symptoms in estrogen-deficient animals.

Institute of Materia Medica, China

Biography:
Weishuo Fang has graduated from Peking Union Medical College and awarded PhD degree in 1997. After two years' of Post-doctoral study in Florida State University, USA, he started his independent career in Institute of Materia Medica, Chinese Academy of Medical Sciences as a Professor. The major theme of his research lab in is medicinal chemistry and chemical biology of bioactive natural products. Two research directions have been actively pursued by him in the past decade: Drug discovery against three distinct targets, including microtubule (protein-protein interaction), beta-secretase (enzyme) and farnesoid X receptor (nuclear receptor), to pursue therapeutic agents with new chemo types and/or with superior activity; and construction of a natural product-inspired library based on the privileged structure concept and its application to drug discovery to improve the efficiency of hit/lead discovery.
Abstract:
Farnesoid X receptor (FXR), belonging to the nuclear receptor superfamily, has emerged as a key player in the control of multiple metabolic pathways. In May 2016, a steroidal FXR agonist obeticholic acid was approved by FDA for the treatment of primary biliary cholangitis (PBC) in combination with ursodeoxycholic acid (UDCA) in adults with an inadequate response to UDCA, or as a single therapy in adults unable to tolerate UDCA, validating the utility of FXR interacting agents in human. Extensive studies on the discovery of FXR ligands in the past 1-2 decades has resulted in the report of some steroidal (natural ligand like) and non-steroidal FXR ligands. However, serious side effects were encountered during the application of FXR full agonists to animals and patients with diabetes and liver steatosis, so FXR partial agonists and antagonists have been actively pursued as alternatives to full agonists, although their number and structural diversity are still limited. Most of reported FXR antagonists to date are still steroidal molecules, including the first known antagonist guggulsterone (Fig.1), in addition to a few synthetic non-steroidal ones. In the pursuit of new chemo type of FXR interacting agents from natural products, we found some chalcones and pentacyclic triterpenes as FXR antagonists or coactivators. Further chemical manipulations were applied to optimize their pharmacodynamics (PD) and pharmacokinetics (PK) properties. Some benzopyrenes (Ia), benzoxepines (Ib), and substituted triterpenoids (II) were found as potent FXR antagonists, demonstrating hypolipidemic activity and hepatic protection ability in diabetic KKAy mice. These studies demonstrated natural products derived FXR antagonists could exert pharmacological activity in mice safely, which are of potential for the metabolic disease treatment.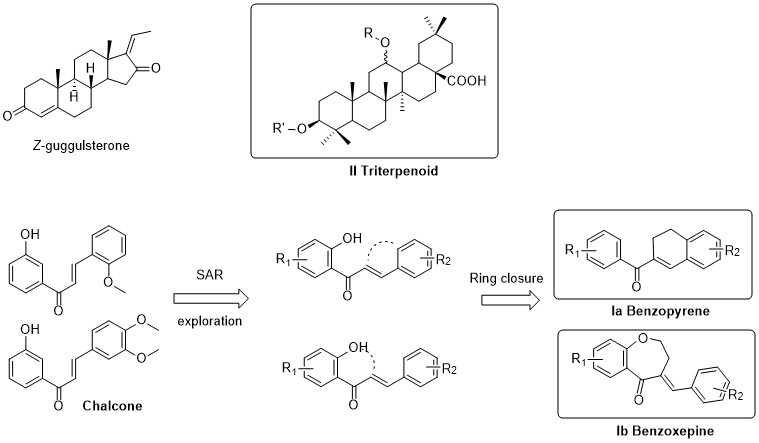 Burapha University, Thailand

Biography:
Tistaya Semangoen has completed her PhD in 2009 from the Department of Immunology, Faculty of Medicine Siriraj Hospital, Mahidol University and Post-doctoral studies from the Department of Microbiology, Faculty of Medicine Siriraj Hospital. She is a Lecturer in the Department of Medical Technology, Faculty of Allied Health Sciences, Burapha University, Thailand. She is an Assistant Dean of Student Affairs, Burapha University, Thailand. She has expertise in Proteomic Technology and Kidney Stone Pathogenesis
Abstract:
Black sticky rice (Oryza sativa var. glutinosa) is a local colored-rice in the North and Northeast of Thailand. It contains high amount of antioxidants which can prevent chronic diseases such as cancer, diabetes, kidney stone and heart disease. However, the role of Thai black sticky rice in kidney stone disease remains not clarified. Renal stone is a common public health problem worldwide. The mechanism of stone formation is crystallization of calcium oxalate ions, growth, aggregation and adhesion to renal epithelial cells. Calcium oxalate monohydrate (COM) is the most common stone in patients. Thai black sticky rice was extracted with 75% ethanol and freeze dried. We examined the effects of crude extract on COM crystal growth and aggregation. COM crystals were prepared in 24-well plates by mixing calcium chloride and NaOx in artificial urine. COM crystals were generated in the absence (control) or presence of rice extract at various concentrations 10, 20, 50, 100 and 200 µg. The generated crystals were analyzed by phase contrast microscopy. Crystal adhesion was examined by adding COM crystals in condition with/without rice extract on Madin-Darby Canine Kidney cells. All of the experiments were independently performed in triplicate. The number of crystals was compared by one-way ANOVA. The results showed that Thai black sticky rice extract were significantly decreased COM crystal growth, aggregation and adhesion in a dose-dependent manner comparing with control (p<0.05). The microscopic images showed that the rice extract decreased crystal size and aggregated configurations. Interestingly, the rice extract can decrease COM crystal adhesion to renal epithelial cells, which is a critical step of kidney stone formation. Our data provide the first evidence to demonstrate the effects of Thai black sticky rice extract on kidney stone formation, particularly, COM crystal growth, aggregation and adhesion. This extract contains substances that decrease COM crystal formation which might be beneficial in preventing kidney stone formation. Moreover, these findings may provide the information leading to the development of new therapeutic strategies.
Sun Moon University, Korea

Biography:
Hye Jin Jung is an Assistant Professor at the Department of Pharmaceutical Engineering, Sun Moon University from 2014. She received her PhD in Bioscience and Biotechnology from Sejong University in 2006. She started her Post-doctoral studies at Yonsei University in the area of Chemical Biology. In 2008, she was appointed as a Research Professor of Yonsei Biomolecule Research Initiative (YBRI). She was a Senior Fellow at the Institute for Refractory Cancer Research (IRCR), Samsung Medical Center from 2012 to 2014. She is currently working on discovering novel bioactive small molecules from natural products and deciphering their molecular action mechanisms.
Abstract:
Discovery of novel biologically active natural products and understanding their modes of action are crucial processes for their development into clinical drugs. The goal of this study is to explore a new natural lead compound for anticancer therapy. Nargenicin A1 is an effective antibacterial compound produced by Nocardia spp. CS682 and exhibits significant activity against various Gram-positive bacteria. Recently, novel derivatives of nargenicin A1 were created using a synthetic biology platform. In this study, we performed comparative analysis of the anticancer activities of nargenicin A1 and its derivatives. Among them, an analog significantly suppressed the growth and metastasis of cancer cells. Therefore, this study evaluates in vitro and in vivo anticancer effect of a novel nargenicin A1 derivative as well as deciphers its cellular action mechanism.
Kongunadu Arts and Science College, India

Biography:
Aathishree Vanji Paramasivan is a second year student at the University of East London. She was given the opportunity to research and write her first summer project paper in Kongunada Arts and Science College and was under the supervision of Dr. R Thirugnanasampandam and Dr. Krishnakumari.
Abstract:
Pleurotus florida is a delicious edible mushroom cultivated on commercial scale in various parts of world. Methanol extract of P. florida was tested for its hepatoprotective and gene expression activities. Inflammation was induced in hepatocytes of BALB/c mice with 1.5 µg lipopolysaccharide (LPS)/25 g body weight followed by treatment with different concentrations of methanol extract of P. florida showed hepatoprotective activity. However 125 µg concentration of mushroom extract showed high hepatoprotection with no abnormalities. Total RNA of hepatocytes were isolated and RT-PCR was performed to study the down regulation of iNOS. At 125 µg concentration mushroom extract significantly reduced the expression of upregulated iNOS at transcriptional level. The findings of the present study indicate that P. florida is not only a nutritionally valuable food it is also an important source for therapeutic compounds.
Taipei Medical University, Taiwan

Biography:
Shih-Min Hsia has received his PhD from National Taiwan University in 2006. Currently, he is working as an Associate Professor in the Department of Nutrition and Health Sciences, Taipei Medical University, Taipei, Taiwan. He has authored 32 research articles. He is a member of Society of Adaptive Science in Taiwan and Society for Study of Reproduction (USA).
Abstract:
Statement of the Problem: Uterine leiomyoma (UL) are benign uterine tumors and the most notable pathophysiologic feature is the excessive accumulation of extracellular matrix (ECM). Fucoidan is a polysaccharide extracted from brown seaweeds, possesses a wide range of pharmacological properties, such as anti-tumor, anti-thrombotic, anti-inflammatory and anti-fibrotic effect. The aim was to study the effect of fucoidan on the growth of UL activated by transforming growth factor beta (TGF-β).
Methodology & Theoretical Orientation: ELT-3 uterine fibroids cells viability was determined by MTT method, cell cycle and cell apoptosis were stained with PI only or annexin V-FITC and PI, expressions of TβR-I, TβR-II, p-Smad2, Smad2/3, and fibronectin proteins was assayed by Western blot assay, cellular migration was assayed by wound healing assay, localizations of fibronectin were assayed by immunofluorescence analyses in each treatment group.
Findings: Treated ELT-3 cell with 0.5-2 mg/mL fucoidan from the brown alga Saccharina cichorioides and observed that fucoidan caused 50% growth inhibition with the high dose of 2 mg/ml after 48 h. Fucoidan induces sub-G1 cell cycle arrest and apoptosis. Fucoidan down-regulated TβR-II, p-Smad2 protein levels and significantly inhibits migration and fibronectin localization in TGF-β1-induced ELT-3 cells.
Conclusion & Significance: Fucoidan displays anti-proliferation, anti-fibrotic effects and exerts protective effects against the UL development.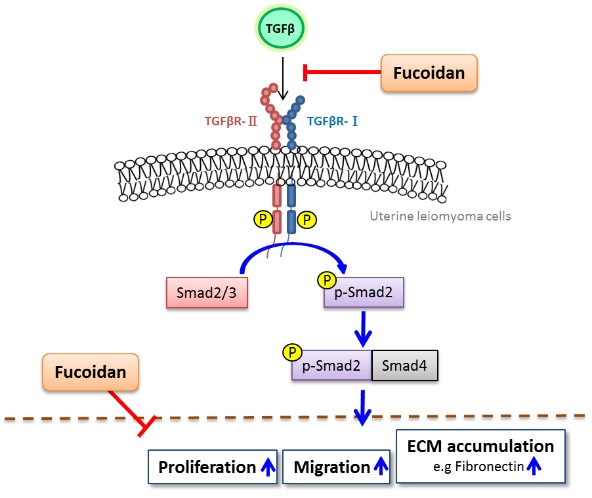 Biography:
Terry Roberts obtained his PhD in biotechnology from Kings College London He is working within the field of human molecular genetics and cancer for over 20 years. During his career he made significant contributions towards research into several cancer types including neuroblastoma, melanoma, leukaemia, prostate and breast cancer. He involved in the cloning and analysis of the novel genes GFI-1, NB4S, TRNG10, PCTA-1 HGRG8, and TTC4 and extensive knowledge of cancer genetics in the field of natural medicine and translational biology to help elucidate pathways through which natural products work.
Abstract:
Statement of the problem: Annonaceous acetogenins extracted from plants of the genera Annona, which includes the species Annona muricata (also known as soursop, graviola and guanabana) are known to have anti-cancer properties. Several published articles, dating back as far as the 1990's, have shown that acetogenins extracted from the leaves, fruit and seeds can kill breast, prostate, pancreas, skin and liver cancer cells in vitro and invivo. CRUK has mentioned that there have not been any large scale studies in humans on the use of graviola for cancer therapy and no substantial evidence of its anti-cancer activity exists. Therefore our aim is to identify and purify the most active anti-cancer product in crude soursop extracts. We will then test these products on normal and cancer cell lines.
Methodology and Theoretical Orientation: An extract was prepared from crushed soursop seeds, it was then subjected to flash chromatography. 6 separate extract fractions were identified. These fractions were tested for bioactivity against the breast cancer cell line 21NT and a normal cell line, HMEC. We found that fractions II and III were approximately 106x more active against cancer cells. HPLC was then used to purify the active compound from fraction II. The HPLC purified compound was then used to treat breast cancer cells for 48 hours, RNA and protein was extracted and used to identify targets that were modulated by the compound.
Conclusion and Significance: This compound was shown to be a transcriptional inhibitor of EGFR and LDH, both of which are important for the rapid growth of cancer cells.
Princess Noura Bint Abdulrahman University, Saudi Arabia

Biography:
Will be uploaded soon.
Abstract:
Objectives
To evaluate the prevalence and behavior of self-medication among PNU students.
Methodology
A cross-sectional questionnaire-based study was conducted on PNU students, to whom an Arabic version of the questionnaire was used to collect the data. Questionnaire included sections about sociodemographic data, behavior and experience of self-medication. Questions regarding health care system and student dorm influence on self-medication practices were included as well. IBM SPSS 22 was used for data analysis. Descriptive and inferential statistics were done as indicated
Results
The prevalence of self-medication among PNU students was 82.6%, The majority reported the use of analgesics (73.5%) for headache and abdominal pain. Information were mainly accessed from internet and relatives (34.4% and 37.7%). Although 92.1% of participants found improvement of their condition, Yet 5.3% reported ER admission as a consequence of self-medication. Of note that 91% had health care availability, however the prevalence of self-medication is still high attributed to bad experiences or fear of infections. Neither college type nor educational level showed impact on self-medication practices, living in a student dorm is thought to enhance self-medication among students.
Conclusion
Self-medication is prevalent among PNU students, College and educational level don't seem to influence its prevalence. Poor experience with hospitals and living in student dorms are aggravating factors.
COMSATS Institute of Information Technology, Pakistan

Biography:
Will be uploaded soon.
Abstract:
Researchers have developed several indices to estimate the significance of plants to humans. The evaluation of the cultural significance (CI) of plants in ethnobotanical studies is an essential quantitative method in various types of investigations, including research on folk uses and naming and classification of plants. An index of cultural significance was applied to data of 129 wild plants from the Soon Valley, and 63 highly useful plants were selected for the CI studies in this research article. In addition to CI, we used other quantitative methods, such as UR (number of use reports), UV (use value index), RFC (relative frequency of citation), RIs (relative importance index), and CV (cultural value index), for enthnobotanical and statistical analysis. The results showed a strong positive correlation between RFC/CI, CI/RIs (0.95) and a weak association between NU and RI at p<0.05 (n=261). The CI index indicated potential practical applications of each plant ranked according to the contribution of each separate application to survival in traditional cultures, together with estimates of intensity and exclusivity of use for each. A CI-based dendrogram clearly depicted closely related species in the same place in the cluster
Pir Mehr Ali Shah Arid Agriculture University, Pakistan

Biography:
Will be uploaded soon.
Abstract:
Ethnopharmacology act as bridge among medical, natural, and social sciences with most of its research focusing on chemical, biological, and pharmacological sciences. Medicinal plants are a basic source of health care in the Pearl Valley, Poonch Azad, Jammu and Kashmir, Pakistan. Although some ethnobotanical researches have been carried out in the district, the work reported here is the first field study on medical ethnobotany in Rawalakot area. Information about the therapeutic properties of the medicinal plants was collected from 46 laypeople and 18 herbalists by using an open ended and semi-structured questionnaire. The data about the use of plants was recorded into a synoptic table containing ethnobotanical inventory of plants, parts used, therapeutic indication and mode of application or administration. Different ethnobotanical indices were calculated in order to quantify the knowledge on the medicinal plants reported in the study. Our study recorded 136 species of medicinal plants belonging to 45 families. Asteraceae (14 species) was the dominant family in the area, followed by Lamiaceae (11 species), Fabaceae, and Rosaceae (5 species each). Herbaceous plants (55%) were the most used, with leaves (31%) as the most exploited plant part. Decoction (26 species), juice and powder (24 species each) were the most common methods of preparation. The highest use values (UVs) were reported for Berberis lyceum and Ajuga bracteosa (1.13 each), Abies pindrow (1.03), Prunella vulgaris and Adiantum capillus-veneris (1.00 each). Highest informant consensus (ICF) values were recorded for digestive system diseases (ICF=0.90), muscular and skeletal system diseases (ICF=0.89), and mouth/pharynx diseases and diabetes (ICF=0.86 each). When we compared data of this study with those of other studies carried out in neighboring areas, we observed that the percentage of similarity in uses of plant species ranged from 13.33% to 34.62% with an average value of 22.53%. The present study revealed the importance to document and launch list of all the possible plants that are used in phytotherapies in the unexplored study area. The present study is useful in preservation of indigenous knowledge and could attract future researchers to investigate and explore phytochemicals responsible for medicinal properties of these plants.
Rashtrasant Tukadoji Maharaj Nagpur University, India

Biography:
Dr. Prakash Rambhauji Itankar, Ph.D., M. Pharm. (Pharmacognosy), D.N.Y.S. (Diploma in Naturopathy and Yogic Science), presently serving as Assistant Professor (Sr. Gr.) at Department of Pharmaceutical Sciences, Rashtrasant Tukadoji Maharaj Nagpur University, Nagpur. He is a recipient of Prestigious "Ethnopharmacology Outstanding Service award 2015" of Society for Ethnopharmacology India (Affiliated to International Society for Ethnopharmacology, UK). He has 06 yrs of Industrial and 16 years of academic experience. He has 40 National and International Publications, filed 04 patents, guided 09 students for Ph. D. He has guided 65 M. Pharm. Students and has Co-Guided several M. D. Ayurveda students. He is working for socializing the traditional claims through ethnopharmacology and scientific validation of drugs from natural origin or their formulations. He is also engaged in research for exploring new drug molecules, novel combinations, novel dosage forms, Seeking patents, imbibing entrepreneurship, supporting and bridging the gap of scientific ambiguity amongst the practitioners and end users.
Abstract:
India is one of the 12-mega diversity regions in the world including 15 agro-climatic zones. It is also one of the world's richest sources of biodiversity in terms of medicinal plants. With its uninterrupted living tradition of health care, it provides India with a tremendous opportunity to meet the growing national and international demand for herbal products. India has a vast potential to develop multiple products for nutritional, preventive, promotive and curative care. The World Health Organization (WHO) has compiled a global atlas of Traditional Systems of Medicine. The global atlas presents that traditional complementary alternative medicine continues to be widely used in almost all the countries across the world. If traditional medicine is adopted as a part of a global strategy for primary health care (PHC), it would then provide the people of India and all other countries with an opportunity to achieve universal health care.
Development of resistance to currently used drugs for management of infectious diseases has led to increased emphasis on the need for use of natural resources including plant materials as a reliable source of medicines for a wide variety of human ailments in order to achieve the goal of health for all.
Saurashtra University, India

Biography:
Will be uploaded soon
Abstract:
Many classical drugs are claimed to have blood sugar lowering properties that make them valuable for people with or at high risk of type 2 diabetes. Vijaysar (Pterocarpus marsupium) and Gaumutra (Indian cow urine) both have been shown antidiabetic property since primordial time and both shows synergistic effect in combination for hypoglycemic activity. The study was undertaken to investigate the hypoglycemic and anti-diabetic effects of the combination of Vijaysar and Gaumutra which is a classical preparation mentioned in Ayurveda named as Pramehari ark. Rats with type 2 diabetes induced by streptozotocin (STZ, 35 mg/kg) given a high-fat diet for one month and compared with normal rats. Diabetic rats showed raised level of body weight, triglyceride (TG), total cholesterol, HDL, LDL, and D-glucose concentration and other serum, cardiac and hypertrophic parameters in comparison of normal rats. After treatment of different doses of drug the level of parameters like TG, total cholesterol, HDL, LDL, and D-glucose concentration were found to be decreased in standard as well as in treatment groups. In addition, treatment groups also showed decrease in the level of serum markers, cardiac markers, and hypertrophic parameters. The findings demonstrated that Pramehari ark prevented the pathological progression of type 2 diabetes in rats